250mA Low Noise Laser Diode Controller for Single Mode Laser Diodes; Integrated Butterfly Mounting Socket
Request Quote sku / item#: RLS/LD-CONTROLLER-C151 ships: Request a Quote for Current Ship Date
Key Features
250 mA Low Noise Laser Diode Current Source, <2 µA Current Source Noise (rms)
12 Watt TEC / Peltier Temperature Controller, ± 0.001 °C Temperature Stability
Integrated Azimuth ZIF Butterfly Mounting Socket
Control your Laser Diode Using On-Board Trim Potentiometers or by Using the Analog Signal Control Connector
Optional Lithium Ion Battery Power Supply for Ultr-Low Noise Performance
DC ~ 250 KHz Modulation Bandwidth, Rear Panel SMA Adapter
Offered by RedWave Labs, a Laser Lab Source Marketplace Seller

Sold & Supported in North America by: LaserDiodeControl.com, part of the Laser Lab Source Marketplace Group
Price and Delivery Quote
Customers Also Considered:
MODEL
RLS/LD-CONTROLLER-C151
PRICE
Request Price
LASER DIODE CURRENT OUTPUT

Laser Diode Current Range: 0.00 - 250.00 mA
Compliance Voltage Range: 4.0 Volts
Set-Point accuracy: 2% of Full Scale Range
Current Source Noise & Ripple (RMS): < 2 µA
Current Source Temperature Coefficient: 50 ppm/C
Current limit: 0.00 to 250.00 mA (User Set)

LASER DIODE BUTTERFLY PACKAGE INTERNAL TEC / PELTIER CONTROLLER

Stability (1hr): ± 0.001°C
TEC Controller maximum output power: 12 Watts
TEC Controller current range: 1.5 Amps
TEC Controller voltage range: 8.0 Volts
Control Algorithm: PI or PID (user selectable)

MODULATION INPUT

Voltage Range: 0 - 10V
Input impedance: 10 kOhm
Transfer Function: 20 mA/V
3dB Bandwidth: DC - 250 kHz
Connector: SMA

CONNECTORS

Laser Diode: Azimuth Zero Instertion Force Socket
Butterfly Laser Diode Pinout: Refer to Image
Power Connector: Molex MicroFit 8 pin (refer to data sheet)
Control and Setting Connector: Molex MicroFit 12 pin (refer to data sheet)

power requirement and DIMENSIONS

W x H x D: 120mm x 92mm x 30mm
Weight: 350 grams
Requires ±12 VDC Power Supply ( 12 VDC ± 10%, 2 Amps )
Product Overview:
250mA Low Noise Current Source for DFB / Single Mode Laser Diodes
The LD-CONTROLLER-CS151 laser diode controller module is a low noise 250 mA precision laser diode current source, a 12 watt TEC controller and a butterfly mounting socket integrated into a compact module. Multiple laser diode protection features ensure that your laser diode module is protected at all times. This module is an ideal solution for biasing low power single mode butterfly packaged laser diodes. It is used in R&D lab applications or as an OEM module for product integration. The user sets the current level and the desired temperature set-point by using the on-board potentiometers or through a connector that offers voltage control pins. Status LED's quickly show if the laser diode current and temperature controller are in an ON or OFF state. These modules are used primarily for precision control of DFB laser diodes and low current devices that require a low noise current source for sensing applications.


12 Watt High Stability TEC Controller
These controller modules offer a PI control loop to keep you laser diode operating at a stable temperature. The temperature control feedback loop is an on-board proportional / integral control loop the controls the temperature based on feedback from the 10 kOhm thermistor in the laser. The user can adjust the on-board potentiometers to obtain the optimal PI. Also, the TEC controller can operate from and external control signal that can be connected to pin 3 of the connector J4. This input can be used if the user has a digital PID algorithm external to the controller. The user can select between internal and external control modes.


Standard Type 1 Laser Diode Pin Configuration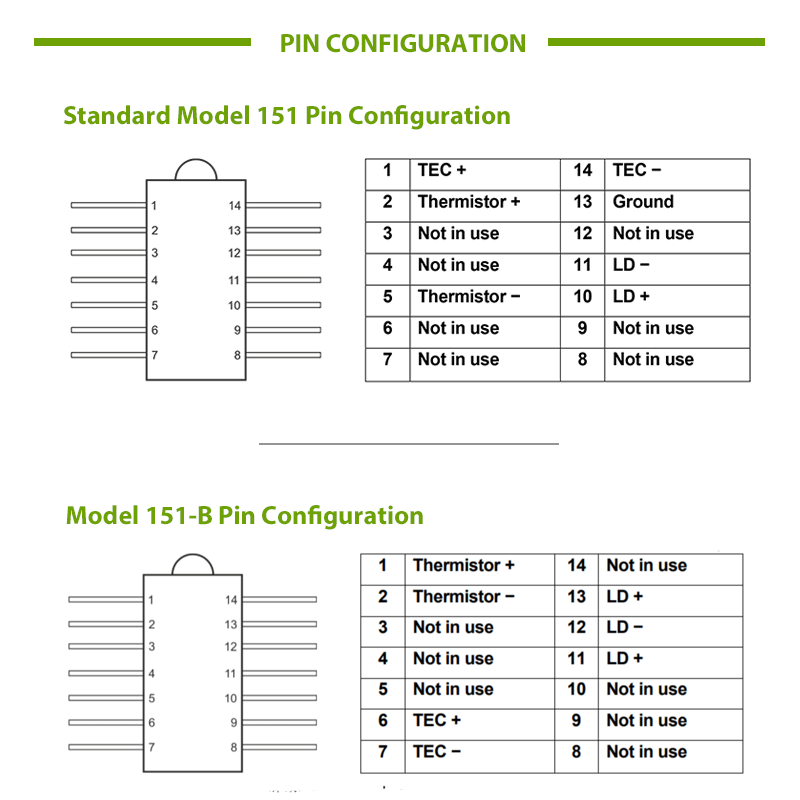 25W Heat Dissipation Capacity
These controllers are designed to dissipate up to 25W of waste heat/power without heat sink under normal laboratory conditions. The waste heat associated with most butterfly packaged laser diodes is well under the 25W maximum. These modules do not typically require an external heatsink.


Installation Tips
We recommend that a user first attaches a high power load resistor rated for 10 watts as dummy load to be certain that all electrical connections are properly secured prior to installing the laser diode. These modules require the user to connect a -12V, GND, and +12V DC power supply for standard operation. This will power the laser diode controller (current driver and TEC controller). For standard operation, the user must connect the +12VDC supply voltage to the Vdd1 pin on the Molex 8 pin connector, and connect the -12VDC to the Vee connector. There is also an option to use a separate supply for the TEC controller for lower noise performance. Details can be found in the Operating Manual attached.
Why do Scientists & Engineers Choose Laser Lab Source?
Get DIRECT, Fast Tech-Support from the Product Engineer, No Sales Person in the Middle

Get the Lowest Price, Factory Direct, No Mark-Up's, Suppliers Post their Own Price

Get a 30 Day Evaluation Period with No Risk Return on Most Products, Check Availability